Solar PV Products
Solar PV Panels & Inverters in El Segundo, California.
Dymond Double-Glass Module
Canadian Solar's Dymond CS6K-P-FG module is a 60 cell double-glass module. By replacing the traditional polymer backsheet with heat-strengthened glass, the Dymond module has a lower annual power degradation than a traditional module and better protection against the elements, making it more reliable and durable during its lifetime.
Key Features:
Anti-PID module
Lower annual power degradation & more system power yield over lifetime

First year annual degradation 2.5%, each subsequent year 0.5%
85.5% power output at year 25
83% power output at year 30

Better fire protecting performance

Fire class A certified according to fire test IEC 61730-2 / MST 23
Certified for fire Type 3 / Type 13 according to UL 1703

Designed for high voltage systems of up to 1500 VDC, saving on BoS costs
Sea/waterside PV system installation

Glass backside blocks moisture permeability
No module-level corrosion

5400 Pa snow load, 2400 Pa wind load
---
The ultimate solution for decentralized PV plants, now up to 30 kilowatts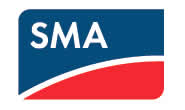 The world's best-selling three-phase PV inverter, the SMA Sunny Tripower TL-US, is raising the bar for decentralized commercial PV systems. This three-phase, transformerless inverter is UL listed for up to 1000 V DC maximum system voltage and has a peak efficiency above 98 percent, while OptiTrac Global Peak minimizes the effects of shade for maximum energy production. The Sunny Tripower delivers a future-proof solution with full grid management functionality, cutting edge communications and advanced monitoring. The Sunny Tripower is also equipped with all-pole ground fault protection and integrated AFCI for a safe, reliable solution. It offers unmatched flexibility with a wide input voltage range and two independent MPP trackers. Suitable for both 600 V DC and 1,000 V DC applications, the Sunny Tripower allows for flexible design and a lower levelized cost of energy.
Key Features:
Design flexibility
System efficiency
Enhanced safety
Future-proof
---